FixedColumn with Bootstrap 5 dropdown overlapping problem
FixedColumn with Bootstrap 5 dropdown overlapping problem
rahmad0813
Posts: 2
Questions: 1
Answers: 0
Link to test case: https://codepen.io/rahmad0813/pen/yLRweYq
Debugger code (debug.datatables.net): -
Error messages shown: -
Description of problem:
I have a problem about my DataTable (using FixedColumns) that have Bootstrap 5 dropdown on the rightmost column that set as fixedcolumn.
The dropdown item is shown under the row after the dropdown itself

If the dropdown item shown on top, it shown over the row above but shown under the row header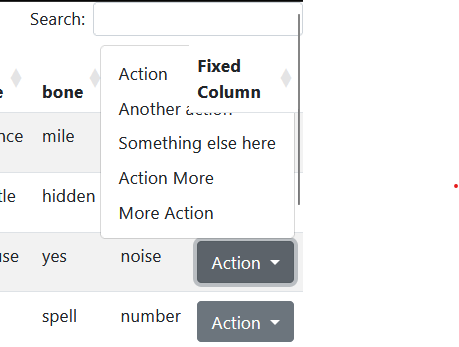 I've tried something like changing z-index, position or workaround the dropdown using bootstrap 5 dropdown 'boundary' option, but no luck.
I also doesnt have that much knowledge about CSS.
Any help would be much appreciable. Thank you.