Buttons multiple Collection drop menu
Buttons multiple Collection drop menu
Hiì,
I've a ui issue with multiple buttons collection https://jsfiddle.net/yutbhq65/3/
If you click a button and then click outside, collection closes correctly.
If you click, example, "Export" button and then click again on it, collection is empty but always visible.


Consequentially, if I click on "Hide/Show" button the collection menu is positioned under "Export" button.
The element is not positioned correctly even if you immediately click on "Hide/Show" while "Export" collection is open.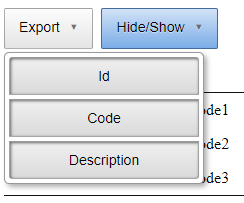 Basically collection it's not destroyed and/or repositioned correctly.
Thank you,
Federico