Search Panes that filter columns
Search Panes that filter columns
fernsperl
Posts: 3
Questions: 1
Answers: 0
I'd like to use the Search Panes extension for a product comparison, where products are presented side-by-side as columns. The challenge here is that records normally presented as rows are instead columns.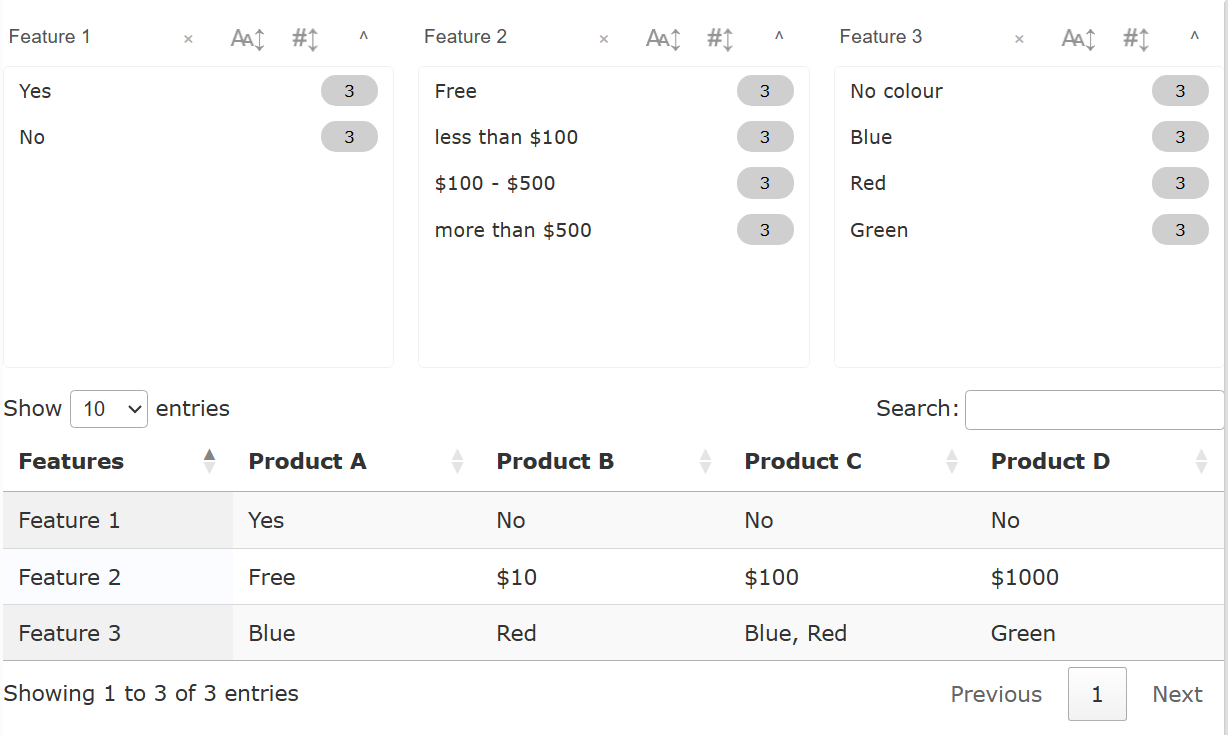 So, in my sample (https://live.datatables.net/xanobite/2/edit?html,js,output), rather than search panes presenting column criteria to filter rows, I have custom row criteria to restrict columns. Each option value function returns true, to retain the rows, as they would always be displayed, regardless of selected filters.
What I'm hoping for, as an example, if you select from the "Feature 1" pane, the "Yes" option, this should result in a filtered display showing only column 0 ("Features") and 1 ("Product A").
I'd appreciate any guidance on how to get this working.
Here's my thinking so far.
Option 1:
As it stands, I'll need to somehow capture the search event and interrogate what criteria have been selected, perhaps using filterChanged? Custom logic could traverse the table cells to determine which columns to show/hide. Seems cludgy.
Option 2:
Alternatively, perhaps I should create a 2nd hidden table, formatted traditionally (with rows as records, columns as attributes) and display that table's search panels for the user. On filter, I could pick up what rows are displayed in the hidden table then show/hide corresponding columns on the primary table.
All suggestions welcome. Thanks in advance!!