Dependent data function
Dependent data function
Link to test case:
See code below.
Error messages shown:
See screenshot.
Description of problem:
I'm trying to use the Dependent function to modify data to talk to my server. This is the HTML/JS being used:
{% extends "schedule/base.html" %}
{% block content %}
{% load static %}
<script src="https://code.jquery.com/jquery-3.5.1.js"></script>
<link rel="stylesheet" type="text/css" href="{% static "js/DataTables-1.11.5/css/jquery.dataTables.min.css" %}">
<link rel="stylesheet" type="text/css" href="{% static "js/Buttons-2.2.2/css/buttons.dataTables.min.css" %}">
<link rel="stylesheet" type="text/css" href="{% static "js/Select-1.3.4/css/select.dataTables.min.css" %}">
<link rel="stylesheet" type="text/css" href="{% static "js/DateTime-1.1.2/css/dataTables.dateTime.min.css" %}">
<link rel="stylesheet" type="text/css" href="https://cdnjs.cloudflare.com/ajax/libs/font-awesome/4.7.0/css/font-awesome.min.css">
<link rel="stylesheet" type="text/css" href="{% static "js/Editor-2.0.7/css/editor.dataTables.min.css" %}">
<style class="init">
</style>

<script type="text/javascript" src="{% static "js/DataTables-1.11.5/js/jquery.dataTables.min.js" %}"></script>
<script type="text/javascript" src="{% static "js/Editor-2.0.7/js/dataTables.editor.js" %}"></script>
<script type="text/javascript" src="{% static "js/Editor-2.0.7/js/editor.dataTables.min.js" %}"></script>
<script type="text/javascript" src="{% static "js/Buttons-2.2.2/js/dataTables.buttons.min.js" %}"></script>
<script type="text/javascript" src="{% static "js/Select-1.3.4/js/dataTables.select.min.js" %}"></script>
<script type="text/javascript" language="javascript" src="{% static "js/DateTime-1.1.2/js/dataTables.dateTime.min.js"%}"></script>

<script src="https://cdn.jsdelivr.net/npm/js-cookie@rc/dist/js.cookie.min.js"></script>
<script src="https://cdnjs.cloudflare.com/ajax/libs/moment.js/2.18.1/moment.min.js"></script>

<body>

  <table id="batches" class="Display" cellspacing="0" style="width:100%">

    <thead>
      <tr>
        <th>Order</th>
      </tr>
    </thead>
  </table>


  <script class="init">

    var editor;
    var table;
    $(document).ready(
      function () {

        editor = new $.fn.dataTable.Editor({
          ajax: {
            url: "/api/batch_rest/editor/?format=datatables",
            // type: 'POST',
            headers: { 'X-CSRFToken': '{{ csrf_token }}' }
          },
          table: "#batches",
          idSrc:  'pk',
          fields: [
            {
              label: "Order:",
              name: "order",
              type: "select",
              {% comment %} options: [
                {% for p in available_orders %}
                    { label: "{{ p.0 }}", value: "{{ p.1 }}" },
                 {% endfor %}
                    ] {% endcomment %}

            },
        ]

    });

editor.dependent( 'order', {
      url: "/api/order_rest/editor/?format=datatables&draw=1&columns%5B0%5D%5Bdata%5D=order_number",
      headers: { 'X-CSRFToken': '{{ csrf_token }}' },
      success: function(json){console.log("success!")}


  },{"data": function(a) {

    a["action"]="options"
    console.log("Returning data")
    console.log(a)
return a;
    },
     "preUpdate": function ( dataa ) {
      console.log("The returned data is")
      console.log(dataa)
    }

  });

    table = $('#batches').DataTable({
      dom: "Bfrtip",
      'serverSide': true,
      "ajax": {
        "url": "/api/batch_rest/?format=datatables",      
        headers: { 'X-CSRFToken': '{{ csrf_token }}' }
      },

      'columns': [
        { 'data': 'order.order_number',
          'orderable': 'False' ,
          'editField': 'order.pk' },

      ],
      buttons: [
        { extend: "create", editor: editor },]

    })

    })
    ;


  </script>

</body>
{% endblock %}

When I click "New" to create a new entry in my table, this is the console output: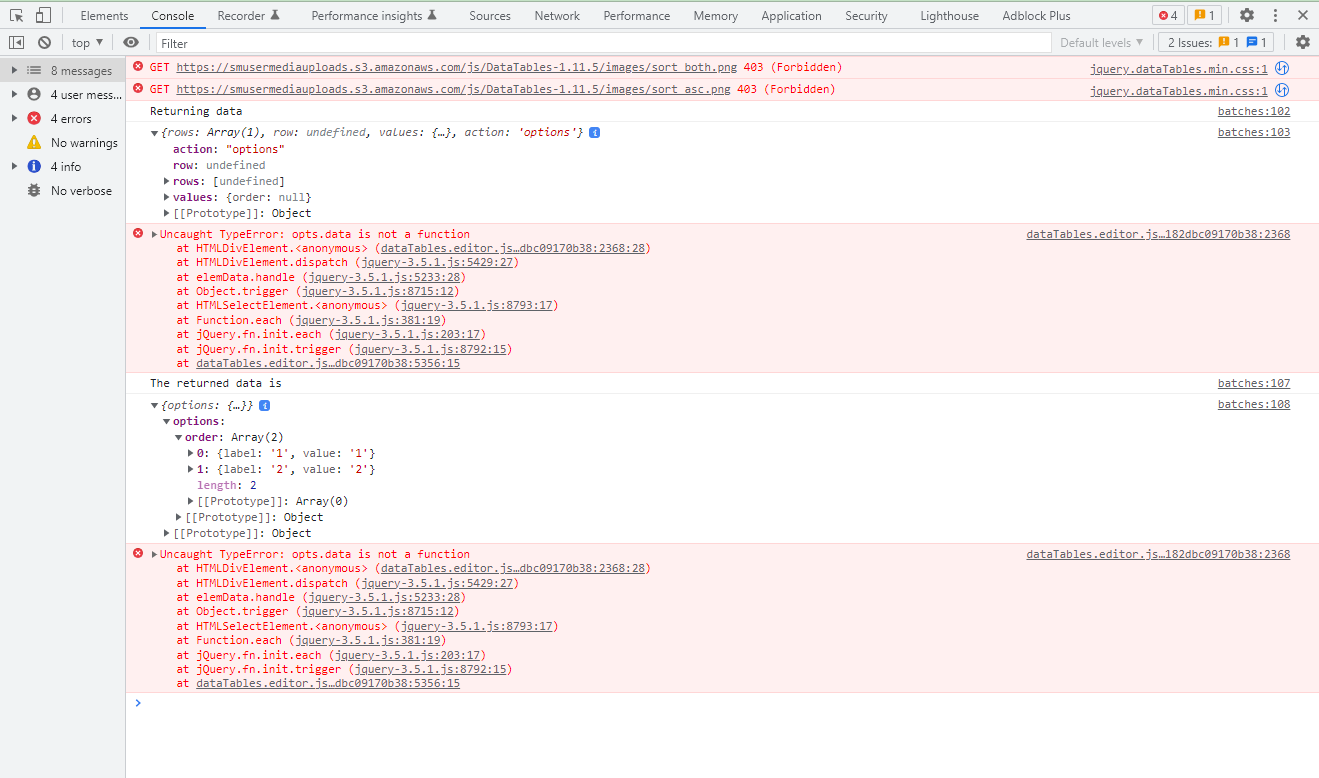 If I click "Create" to submit my new entry, I get the error:
"Field is still processing For more information, please refer to https://datatables.net/tn/16"
What do I need to modify to get this to successfully add a new row to the table?