Extended Print API functions
Extended Print API functions
bbrindza
Posts: 293
Questions: 66
Answers: 1
Hello DataTable Gurus,
I have attached a numbered image of a print that I need to figure out the follow...
How to remove this title. ( it is causing duplicate titles )

How to break up this title into 2 lines. ( to avoid wrapping )

Modify or remove the about footer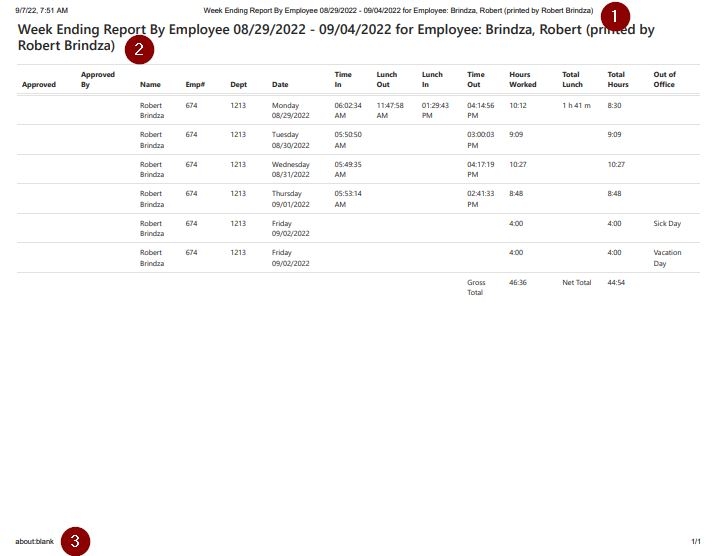 Here is the extend print portion of the script.
              {
                extend: 'print', 
                init: function(api, node, config) {
                    $(node).removeClass('dt-button buttons-print')
                 },
                className: 'btn btn-primary',
                exportOptions: {
                     columns: [ 5, 6, 7, 8, 9, 11, 12, 13, 14, 15, 17, 18, 20, 21]
                },

                title: 'Week Ending Report By Employee '+  $('#weekEndingFromDate').val() + ' - '+  $('#weekEndingToDate').val() + ' for Employee: ' + employeeName +  ' (printed by ' + employeeNameFirstLast + ')' ,
                
                customizeData: includeSubtotals,

                customize: function(win) {
                    $(win.document.body).find('h1').css('font-size', '15pt');   
                    $(win.document.body)
                            .css( 'font-size', '8pt' );
     
                 $(win.document.body).find( 'table' )
                            .addClass( 'compact' )
                            .css( 'font-size', 'inherit' );
     
                    var last = null;
                    var current = null;
                    var bod = [];
     
                   var css = '@page { size: landscape; font-size: 8px}',
                        head = win.document.head || win.document.getElementsByTagName('head')[0],
                        style = win.document.createElement('style');
     
                    style.type = 'text/css';
                    style.media = 'print';
     
                    if (style.styleSheet)
                    {
                      style.styleSheet.cssText = css;
                    }
                    else
                    {
                      style.appendChild(win.document.createTextNode(css));
                    }
     
                        head.appendChild(style);
                    }
                 },